Recent days I got curious that what topics attract most of economists' attentions. NBER working paper series contain some relatively new research fruits so I used it as the raw input.
It is not hard to extract key words from these papers' titles. After that,  I made a further step that matched all single keys to academic keywords on Microsoft Academic.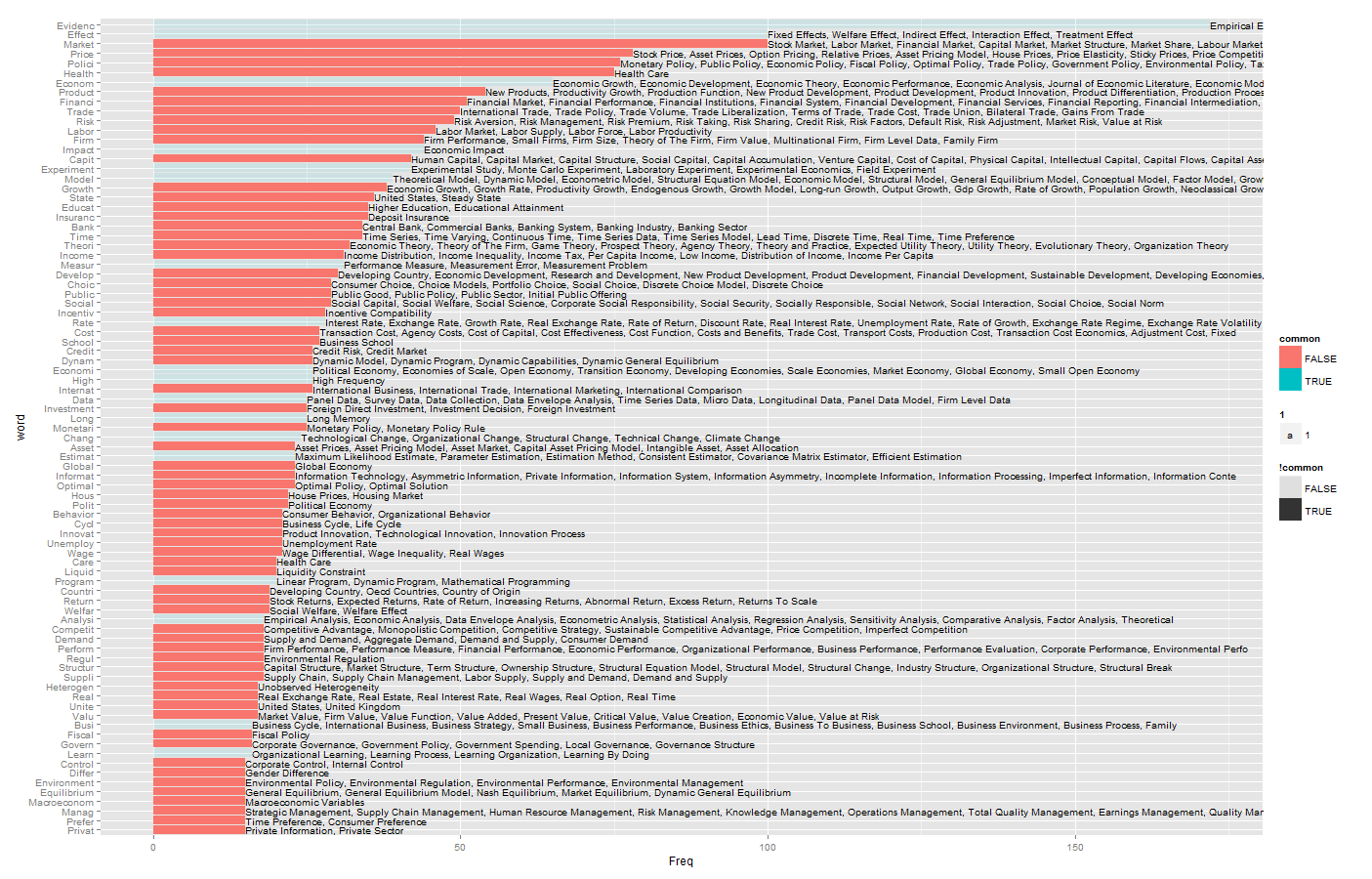 From a glance, I manage to identify some hot keys:
Price. Health. Social. Policy/Public. Risk/asset/liquidity. Growth. Insurance. Education/School.
For reproducible purpose, my code is here.
1

2

3

4

5

6

7

8

9

10

11

12

13

14

15

16

17

18

19

20

21

22

23

24

25

26

27

28

29

30

31

32

33

34

35

36

37

38

39

40

41

42

43

44

45

46

47

48

49

50

51

52

53

54

55

56

57

58

59

60

grab_url

<

-

c

(

"http://www.nber.org/new_archive/mar14.html"

,

"http://www.nber.org/new_archive/dec13.html"

,

"http://www.nber.org/new_archive/sep13.html"

,

"http://www.nber.org/new_archive/jun13.html"

,

"http://www.nber.org/new_archive/mar13.html"

)

grab_paper

<

-

function

(

grab

)

{

webpage

<

-

getURLContent

(

grab

)

web_content

<

-

htmlParse

(

webpage

,

asText

=

TRUE

)

paper_title

<

-

sapply

(

getNodeSet

(

web_content

,

path

=

"//li/a[1]"

)

,

xmlValue

)

author

<

-

sapply

(

getNodeSet

(

web_content

,

path

=

"//li/text()[1]"

)

,

xmlValue

)

paper_author

<

-

data

.

frame

(

paper_title

=

paper_title

,

author

=

author

)

paper_all

<

-

ldply

(

grab_url

,

grab_paper

)

titles

<

-

strsplit

(

as

.

character

(

paper_all

$

paper_title

)

,

split

=

"[[:space:]|[:punct:]]"

)

titles_short

<

-

wordStem

(

titles

)

Freq2

<

-

data

.

frame

(

table

(

titles_short

)

)

Freq2

<

-

arrange

(

Freq2

,

desc

(

Freq

)

)

Freq2

<

-

Freq2

[

nchar

(

as

.

character

(

Freq2

$

titles_short

)

)

>

3

,

]

Freq2

<

-

subset

(

Freq2

,

!

titles_short

%

in

%

stopwords

(

"SMART"

)

)

Freq2

$

word

<

-

reorder

(

Freq2

$

titles_short

,

X

=

nrow

(

Freq2

)

-

1

:

nrow

(

Freq2

)

)

Freq2

$

common

<

-

Freq2

$

word

%

in

%

c

(

"Evidenc"

,

"Effect"

,

"Econom"

,

"Impact"

,

"Experiment"

,

"Model"

,

"Measur"

,

"Rate"

,

"Economi"

,

"High"

,

"Data"

,

"Long"

,

"Chang"

,

"Great"

,

"Estimat"

,

"Outcom"

,

"Program"

,

"Analysi"

,

"Busi"

ggplot

(

Freq2

[

1

:

100

,

]

)

+

geom_bar

(

aes

(

x

=

word

,

y

=

Freq

,

fill

=

common

,

alpha

=

!

common

)

)

+

coord_flip

(

)

### get some keywords from Bing academic

start_id_Set

=

(

0

:

5

)

*

100

+

1

get_keywords_table

<

-

function

(

start_id

)

{

keyword_url

<

-

paste0

(

"http://academic.research.microsoft.com/RankList?entitytype=8&topDomainID=7&subDomainID=0&last=0&start="

,

start_id

,

"&end="

,

end_id

)

keyword_page

<

-

getURLContent

(

keyword_url

)

keyword_page

<

-

htmlParse

(

keyword_page

,

asText

=

TRUE

)

keyword_table

<

-

getNodeSet

(

keyword_page

,

path

=

"id('ctl00_MainContent_divRankList')//table"

)

table_df

<

-

readHTMLTable

(

keyword_table

[

[

1

]

]

)

names

(

table_df

)

<

-

c

(

"rowid"

,

"Keywords"

,

"Publications"

,

"Citations"

)

keywords_set

<

-

ldply

(

start_id_Set

,

get_keywords_table

)

save

(

keywords_set

,

file

=

"keywords_set.rdata"

)